Red Dot Award for two Yamaha models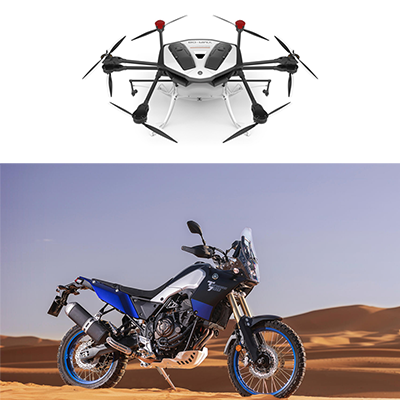 2020, June 04
On March 31, 2020, Ténéré 700 motorcycle and YMR-08 industrial drone have both received the globally-prestigious Red Dot Award for Product Design 2020. These honors mark the ninth year in a row - every year since 2012 - that a Yamaha Motor product has received a Red Dot Award.
The Ténéré 700 is an adventure tourer in the best traditions of the Ténéré brand, drawing on its brilliant history of success in one of the world's toughest rallies - the Dakar - in the 1980s-90s. The Ténéré 700 features a 689cm³ water-cooled in-line 2-cylinder 270° crank engine mounted on a lightweight body. With a high degree of freedom in riding posture, high durability and ease of maintenance, along with high adaptability under load, this new model balances off-roading, adventure, and touring performance at a high level. With the design concept of "Exciting Adventure Ténéré", this model has a high-positioned face that incorporates a three-piece shield on a distinctive headlight and tank, creating a design which expresses a spirit of adventure.
The Ténéré 700 was also recently awarded the German "iF Design Award."
Developed based on the concept of "spraying a one-hectare field in one 15-minute flight*," the YMR-08 is an industrial multi-rotor drone principally aimed at pest control applications. Responding to the requirements of suburban areas and small-scale agriculture, the YMR-08's features include a lightweight carbon body and electric motor making it quieter than its gasoline counterparts. The thorough emphasis on functional beauty which meets the demands of farmers and crop sprayers has created a design full of refined dynamism.
The YMR-08 was also recently awarded the "Good Design Award 2018."
* The Red Dot Design Awards, organized by Germany's Design Zentrum Nordrhein Westfalen, are widely recognized as one of the most prestigious design awards in the world.
Back to the list